Pricing
| | | |
| --- | --- | --- |
| Size | Black/White | Colour |
| 16″ x 20″ | $140-160 | $220-260 |
| 24″ x 36″ | $260 | $340 |
( Negotiable depending on the subject matter: )
Or any other size you can come up with. All paintings are done in acrylics on canvas stretched over wooden frames. Ready to hang as-is.
Let me know what you want and I'll let you know what I can do for you.
Examples of my work can be seen in my gallery.
The easiest way to contact me is by email: andrew@andrewskidmore.ca.
Most of my works are on 16″ x 20″ canvases with acrylic paint, but I have done pieces larger and smaller.
If you have anything at all in mind let me know!
If you're looking for something else just ask.
How it Works
Send me a photo or set of photos that you would like me to paint for you. You can email me any photo, drawing, scribble, whatever. Or drop me a line and we can meet up in person.
Then let me know what size canvas you would like this on and if you would like it done in colour or black and white. (Or maybe a little of both.)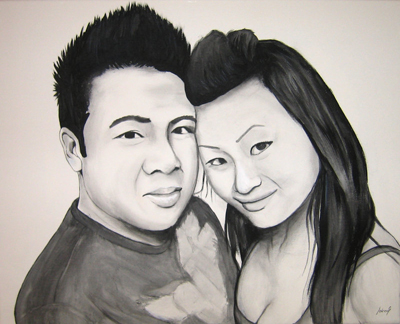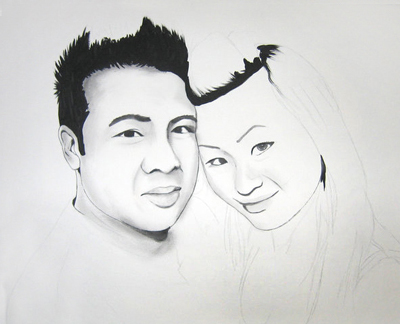 One of my portraits I completed for a couple as an anniversary present.
16″x20″ Acrylics on canvas.
Place mouse over to see completed painting.